"Used the Free Trial First"
I thought CTC was perfect for my kids just by using the trial format. Some things I like about ctc include:
easy navigation, the rewind/fast forward lesson feature, tutorials are quick and easy to understand, parents can choose the lessons they feel their child needs more work on and can challenge them with upper level lessons as well, tests available immediately after tutorial, parents can choose what they think a passing score is for each child, printable lesson summaries....I can go on and on. This feedback came just from the trial; now we are members and have full access so it can only get better. Thanks, CTCMath.com
Brandi
New Iberia, Los Angeles
I love math!
Well, not really. Not me anyway, but my kids do. What a blessing that is, and what a blessing CTCMath has been to our family. It blesses me, the "I really don't see a point to all this math" person, just as well as it does my children. It even helps me like math just a little bit more, and that's pretty cool!
Tina
"Hearing AND Seeing... A Great Way to Learn"
I think this Math program is AWESOME!!! The hearing AND seeing is a great way to learn. I used not to understand math at all. But thanks to you guys, I learned rounding in a day!
Thanks, CTCMath : )
Katie Corbett
(6th Grade student)
Flower Mound, Texas
"Hey Mom, Can I Do MORE Math?"
We are loving your program. We have 2 school age children and 2 under 4 who will be growing into CTC. My 3rd grade boy has asked me 3 days in a row if he can stay on the computer and do MORE math. Such a change from fighting over workbooks. Thank you!
Kat Jakubiak
Clarks Summit, Pennsylvania
I love CTCMath. This program is fun and simple but challenging and educational. I never liked math before but now I think it much better. Thanks CTCMath, for making my math experience so much better!
Meralin Tybalt
(4th Grade student)
Knoxville, Tennessee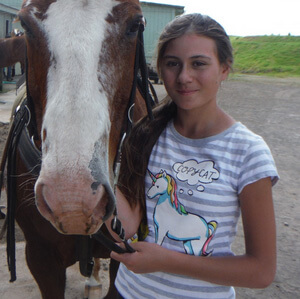 CTCMath is absolutely wonderful! Makes learning fun and easier. Thank you, CTCMath!
Gina Bertaina
(6th Grade student)
Waikoloa, Hawaii
"Attitude and Understanding has done a 180!"
After several months of doing algebra with a different curriculum, he was miserable each day saying that he hated math and wasn't good at it. We decided to give CTC a try and his attitude and understanding has done a 180!
Kelly Parsons
Hope Mills, North Carolina
"My Saving Grace"
I wanted to send you a quick note of thanks! I have three sons that I homeschool. They are very bright and all three are academically gifted and working well above their respective grade levels. I have struggled to find a math program that was a good fit. Trust me we have tried quite a few. They each had weaknesses. Many required too much from me as the teacher and with 3 to teach I was getting worn thin. Others didn't cover enough information and left some topics confusing for the boys.
Anyway, yesterday I saw your add and thought what the heck I've already spent a small fortune on math what can one more hurt. Low and behold your math program was my saving grace. All three boys proclaimed they loved it and that math was fun again. My husband ( a physicist, and major math fan) was impressed and gave your program a thumbs up. I only wish I had found it sooner and saved us time and money by purchasing your program from the start.
Carole Zullo
Richmond, Texas
"A Great Find for our Family"
CTCMath has been extremely beneficial in giving my elementary-age sons a solid foundation in math. As a home schooling mom, I have found many uses for CTC: As a primary introduction to a math concept, as a way to explain a concept that they are not understanding, and/or as a review tool to ensure they have understood these lessons. The animation appeals to my younger son, while the quick, but detailed lessons appeal to my older son. I have also learned new ways to look at math. This was a great find for our family and I encourage others to make use of CTCMath. It's wonderful!
Dorothea Holcomb
Groveland, Florida
"Replaced All Other Math Programs in our Homeschool"
My family and I are really enjoying using CTCMath! It has helped us fill in some major gaps in our children's math education in a way that our kids enjoy and easily understand. It has been such a blessing to our homeschooling family, and the program has replaced all other math programs and curricula in our homeschool. So, thank you!
Rachel Keppner
Gilbert, Arizona
"I Used To Get Blank Stares. Now He Gets It Right Away"
My son has completed 5 lessons so far and hasn't complained at all! He seems to understand the concepts. I used to get blank stares, but now he seems to get it right away! Thank you!
Christi Babaz
Lawrenceville, Georgia
"Certificates are a Great Motivator"
We have been very pleased with CTC. It is challenging, yet the lessons are made easy to understand. It had been a great program for my 7th grader. Her math skills have improved considerably. We also use it for my 2 third graders who are doing well. The opportunity to earn "platinum" certificates has been a great motivator.
Jennifer Lorberblatt
Raleigh, North Carolina
"Nothing Distracting or Confusing"
It isn't a flashy program, and that is a GOOD thing. There is nothing distracting or confusing.
Jenn
"Way Better than a Text Book"
I love having a person with an accent teach me math. It is way better than a text book.
Kayla Struzik
(6th Grade student)
Jaffrey, Newhampshire
I think that CTCMath is a great way to learn. It always helps me with the math problems I thought would be impossible to learn. I have learned more than any other math program has ever taught me. so CTCMath is awesome :)
Matthew Blackledge
(6th Grade student)
Canton, OH